Personalized Health Consultations and Education
for Individuals, Professionals, and Groups.
Individualized health plans are designed for the prevention of illness, treatment of medical conditions and the prevention of chronic disease progression. Integrative Medicine uses a cooperative approach to discuss and plan practical ways to improve the quality of health and make complex medical decisions.
Initial consultation (1.5 hours) –

Includes: Medical history, review of previous medical records, physical exam, review of previous laboratory tests and lab test recommendations.
Review of primary health concerns and previous treatments.
Nutrition, Diet and stress analysis.
In this visit you will have a chance to tell your story about your health. the history or your condition and your response to treatments and medications that either worked well or didn't work at all. It will give you a chance to discuss what you are struggling with or are most concerned about in your personal health. We will discuss a treatment plan based on a practical strategy to include nutrition, diet, exercise, medications as necessary.  Additional laboratory and diagnostic testing may be recommended to look for nutrient deficiencies, underlying infections, hormone imbalances, genetic markers, digestive analysis or diagnostic imaging tests.
Follow up consultation – One hour/ One half hour

Includes: Review and discussion of laboratory results and previous treatment plan.
We will discuss strategies for treatment based on test results or response to previous recommended treatment. Referrals are suggested if necessary.
Initial Acupuncture consultation
Includes:
Five Element Wellness assessment and a treatment plan to follow.
 Japanese acupuncture treatment using non needle insertion or traditional acupuncture techniques.
Chinese herbal formula may be recommended based on your constitution.
Immune fitness includes using Breathing and Qigong health exercises
Follow up Acupuncture consultation  
Includes:
Acupuncture treatment
Review of systems
Review and modification of Herbal formula
Qi gong health exercises
These treatments benefit the body's network of communication signals that aren't measured by laboratory tests. The treatments are relaxing and create longer lasting health effects. Most sleep better and manage stress better by using acupuncture. Its effect on the immune system prevents chronic illness.
Educational Presentations
Individual, Professional or Group education presentations on health related subjects. Topics include personalized nutrition for medical conditions, Lyme disease, Bio Identical Hormone Replacement (BHRT), brain health and cognition, cancer prevention, autoimmune conditions, detoxification, digestive health and disorders, blood sugar disorders, women's health and prenatal wellness.
East Asian Medicine topics include:
Five Element Wellness Plan
Acupuncture for health and stamina
Women's health
Chinese nutrition
Chinese herbal remedies for medical conditions and improving immunity
Qi Gong breathing and exercises
Fees by arrangement
Nutrition & Exercise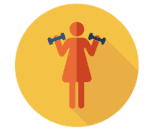 For those who are interested in how to change their diet and restock their kitchen with more natural foods, Dr. Quattro will provide personalized guidance on how to shift to a healthier diet and lifestyle to improve you and your family's health.
Restorative exercise programs are offered including Qi Gong, yoga, and meditation instruction for strengthening, relaxation, and rejuvenation toward a healthy lifestyle and vibrant health.
Phone Consultations
Phone consultations are offered to discuss minor or more complex condition after your first medical visit.
Dr Quattro also offers consultations to medical professionals to discuss complex cases using Integrative Medicine.