Restore Your Vibrant Health with
Personalized Medicine!
Click purple circles below to find out more.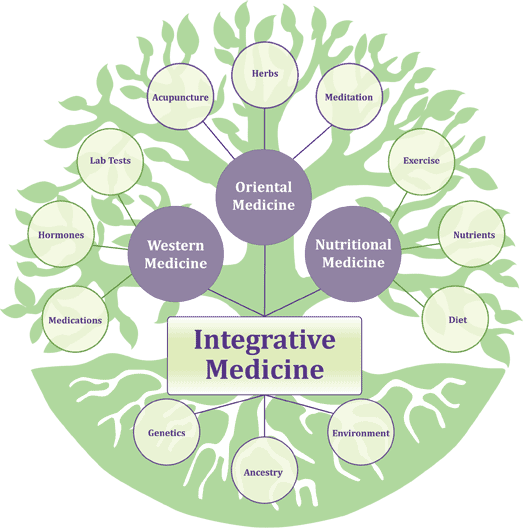 IS INTEGRATIVE MEDICINE RIGHT FOR YOU?
Do you have a chronic condition you are struggling with?

Do you have a condition your doctor has not been able to diagnose?

Are you taking medications even though your condition is worsening?

Are you concerned you are taking too many medications?

Do you feel a lack of vitality and energy?

Do you wake up feeling tired even after a good night's sleep?

Are your moods inconsistent?

Would you like to be eating a better diet but need help to decide which might be the best one for you?

Do you feel you are taking too many recommended nutritional supplements?

Are you frequently having digestive symptoms?

Do you feel your hormones are out of balance?

Have you considered acupuncture but are afraid of needles?

Are you interested in a doctor who can prescribe medications, and recommend a diet and nutritional supplements plus treat you with acupuncture all in one visit?

Are you interested in a doctor who is experienced in treating chronic conditions using western medicine, nutrition and acupuncture to improve your health?

Would you finally like to get to the core of your health problems?

Do you have early signs of diabetes and not sure how to treat it?

Have you recently been diagnosed with a new disease?

Are you unable to exercise due to chronic pain or breathing difficulty?

Are you having problems with urination?

Have you been interested in herbal therapies but not sure which ones to take or are safe?

Are your monthly cycles painful?

Are you having trouble getting pregnant?

Do you have a family history of cancer and want to know how you can prevent it yourself?

Have you had a painful acupuncture experience but would still like to try it again if there wasn't any pain?

Are you drinking coffee or using stimulants to have enough energy to get through the day?
Treatments For:
Anxiety
Arthritis
Asthma
Autoimmune disorders
Blood-sugar disorders
Depression
Digestive disorders
Endometriosis
Fatigue
Hepatitis
Heavy metals
Hormone imbalance
Infertility
Irritable bowel syndrome
Lyme Disease
Osteoporosis
Pregnancy Care
Sleep disorders
Weight Loss
Womens'' Health